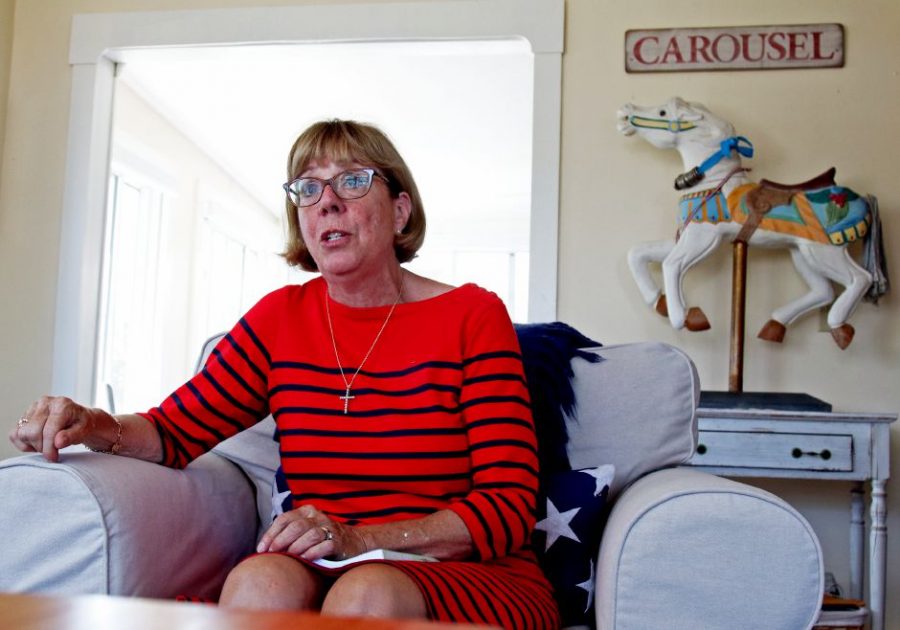 July 21, 2018 11:16PM
By Nancy Burns-Fusaro, Sun staff writer
Original Article from thewesterlysun here.
CHARLESTOWN — Two months after her interview with Megyn Kelly of NBC's "Today" show — a deeply personal interview that has attracted 2.6 million viewers — Nancy McCann Vericker sat inside her Green Hill Pond summer cottage on a picture-perfect July afternoon, sipping freshly-brewed iced tea from a Mason jar and holding her recently published book.
It was because of the book, explained the cheerful, married mother of four, that she landed on national television. It was because of the book — "Unchained: Our Family's Addiction Mess Is Our Message" — that she is continuing with her mission. A mission to tell the world that recovery from opioid and alcohol addiction is possible.
Vericker wrote the book with her only son, JP, who has been clean and sober for eight years following years of a hellacious battle with addictions. A co-founder of Northeast Addictions Treatment Center in Quincy, Mass., JP is now board-certified in the treatment of substance-use disorder and lives in Boston.
'Suffering can help redeem'
Looking every bit like the girl next door in her striped nautical-style dress and with a simple gold cross dangling from her neck, Vericker, 62, spoke passionately — often tearing up — as she detailed her family's ordeal and her eventual decision to go public and share details of "one of the most painful chapters of our lives."
"I believe our pain is meant to be redeemed," said Vericker, a speaker, spiritual director, youth minister and former journalist who holds a master's degree in spiritual direction from Fordham University. "Suffering can help redeem us, and can maybe help someone else who has to walk the same rocky path."
"If I can reach just one person," said Vericker, as she sat inside the family summer house set in the neighborhood she calls a beloved sanctuary. "If I can reach just one family … if just one other family reads the book, then it will be worth it. There's no one whose life has not been affected by addiction."
"Our family has been given the gift of a renewed life together," Vericker writes in the preface. "A gift is meant to be shared, and so we decided to share all of it — the gritty and the glorious."
'Hard to do'
Vericker said she wrote the book with encouragement from her "vast circle of wonderful friends" and family — a former editor; a Jesuit priest; Joe, her husband of 35 years; their daughters, Elizabeth, Molly, and Grace; and dozens of others she lists in her acknowledgements.
"It was hard to do," she said. "We've both really put ourselves out there … JP has been very gracious."
Vericker said she interviewed her son over a period of several months, and then wove their stories together into the book, which is told from each one's point of view. It is a story, as Dr. Amy Fitzpatrick, a board-certified physician in addiction medicine, writes in the foreword, that "millions of families can identify with."
"This book will help families understand that addiction is not a moral failing, but a medical disease with professional treatment options available to help them deal with this harrowing epidemic," writes Fitzpatrick, who also cites some staggering statistics.
National epidemic
According to the National Survey on Drug Use and Health, Fitzpatrick says, 21.5 million American adults age 12 and over suffered from a substance-use disorder in 2014.
"Each year the numbers of Americans affected by drug and alcohol addiction increases," she writes. "The Center for Disease Control reports that in 2016, more than forty-six Americans died every day from overdoses involving prescription opioids."
Vericker said she and her husband, a professional photographer, knew from the time their son started high school that he had a problem. They did their best to deal with it, she said, but families in crisis often turn inward instead of seeking the professional help they need. Shame can play a part, she said, especially in a close-knit family like the Verickers.
For years the family tried to deal with JP's problems on their own. They sent him to boarding school and wilderness camp and they prayed. And they loved.
"It gets complicated," she added, "Everyone plays a role."
Ultimately, added Vericker, they sought help from "a committee of wizards," and made the commitment to take the "tough love route."
"You need to seek help," said Vericker who has been in recovery herself for the last 28 years. "And you need to look at your own addiction issues … pills, shopping, cocktails."
"I thought our great love for our son would carry the day," she said. "You want to believe that you'll figure it out … that you can pray yourself into a solution."
Even after that, she said, even after having their son arrested, the Verickers would endure several more years of anguish.
"I do think there's a genetic component," said Vericker, who describes her maternal grandfather's alcoholism in the book. "A generational, genetic component."
An isolating illness
Something else Vericker said she's learned through her family's ordeal is the importance of being "compassionately tactful."
"If you know of a family going through an addiction crisis," she suggested, "let them know."
"You could say something like, 'I don't want to intrude on your privacy, but I want you to know I'm thinking of you and if there's anything I can do, please let me know," she said. "Just be kind and nonjudgmental."
"It can be so isolating," she said, "and things can get so magnified."
In a telephone interview from his office in Quincy, JP said, "The underlying theme of the book is to let people know that addiction is not a death warrant."
Despite the hell he put his family — and himself — through for all those years, JP now looks at the struggles as a gift.
"It was hurtful and it was painful and it was hard to grow up," he said. "But if I hadn't gone through it, I never would have ended up here."
"It's a great thing to be part of," he said about the Quincy treatment center, which helps people from all over the world through a two-pronged approach that develops a personalized treatment plan to help combat addiction.
The first step in recovery begins "when you start a dialogue," he said. "It opens doors."
"There is a solution for addiction," he added. "And there is hope. There is a light at the end of the dark tunnel."
To watch Vericker's interview with Megyn Kelley, and to learn more about the book, visit nancyvericker.com.
nbfusaro@thewesterlysun.com