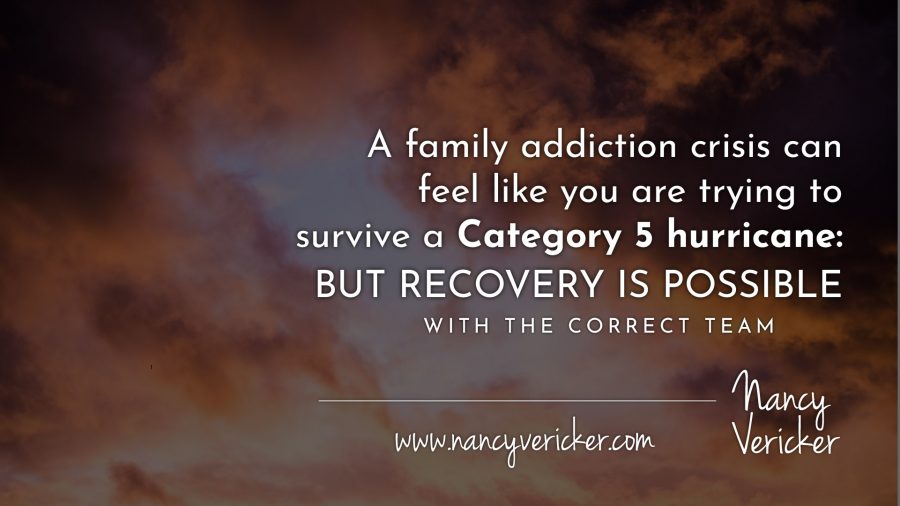 A family addiction crisis can feel like you are trying to survive a Category 5 hurricane.
The high, deadly winds of a loved one's substance- fueled choices are whipping around the atmosphere at more than 100- miles- an- hour. The torrential, driving rains of the consequences of those choices are drenching everyone because substance use disorder is a family systems illness. The electrical power is about to go out plummeting everything in darkness. And swirling, cold flood waters threaten to take out the foundation of your home.
Does anyone have an escape plan?
My family lived in that stormy existence for years… and years. To be completely honest, for a long time I believed we could ride out the storm of my beloved son's heartbreaking struggle with alcohol and opioids through the power of our committed family love, and a family life intentionally centered on all the good stuff: strong ties to our church and parish school, participation in community activities and sports, longstanding family traditions and close relationships with extended family and good friends.
But unfortunately, none of it got to the eye of the storm of the chronic relapsing brain disease of substance use disorder. For my family, the disease was way bigger than any home-grown solution. We needed a team of trusted professionals knowledgeble in the field of recovery to help us navigate to viable solutions.
Over time we found our team.
Our beloved family counselor, Dr. Bill Cipriano listened compassionately to all our concerns and helped us to see the value of boundary setting as a way to guide our son towards choosing residential detox and rehab treatment for his dependence on alcohol and opioids.
Detox gave my son a medically supervised, safe place to get off the substances that were destroying his body, mind and spirit. The weeks he spent during both stints in residential treatment provided a protected, supportive environment for him to learn about the causes for the disease of addiction and proven strategies for combatting it.
The Family Program at the treatment center provided my husband and I with much-needed information about how this systems illness impacts all family members and tools to deal with that fallout.
It was never my intention for my son to have to go to detox and rehab for help with the illness of addiction. When raising a child, no one thinks the future will include the storm of addiction necessitating a team of recovery professionals to help save his life.
But as loving parent, taking that level of action proved to be the right path for help and healing for him and the rest of my family. In fact, the help my son received was so impactful in his life that he chose to enter the field of recovery work, which led to his co-founding Ark Behavioral Health, a system of detox and treatment centers.
Wise Saint Mother Theresa of Calcutta expressed it best: God writes straightwith crooked lines.
---
What is the path of help and healing you have pursued for your family?
How has that path helped your family?
Please share here. We can all be helped and inspired by our collective experience, strength and hope.
---
Connect With Nancy
For information and guidance for help and resources for you or your loved one please email: info@nancyvericker.com
Nancy is co-author of Unchained: Our Family's Addiction Mess Is Our Message.
Get Your Copy Of Unchained