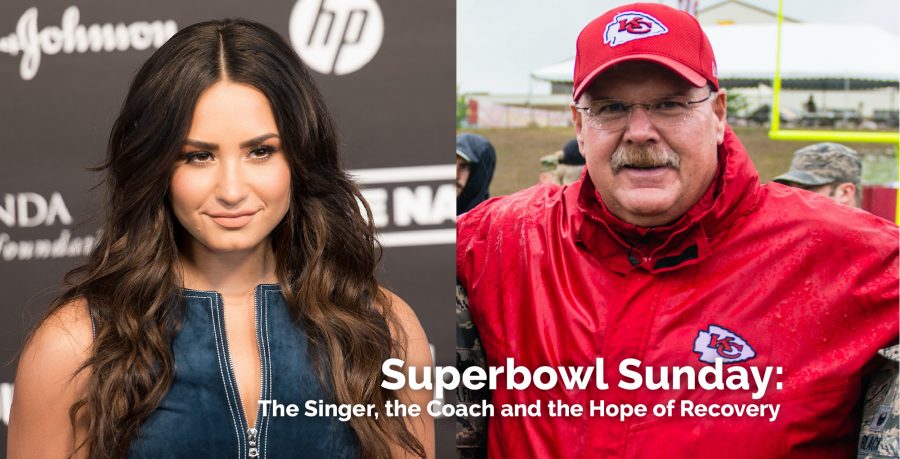 Every year Superbowl Sunday is a big event in my family. We love football. We love to chow down on good party food. And we love being together with family and friends.
But this year's Superbowl carried an even greater depth of meaning for my family as it was bookended by two lives very – much impacted by the disease of addiction: singer Demi Lovato and Kansas City Chiefs Coach Andy Reid. Lovato and Reid on the same national Superbowl platform achieved the pinnacle of success in their respective careers before an audience of nearly 100 million viewers.
And, just as importantly, they shared a message of hope in their personal fight against the disease of addiction with the same viewership. Both had lived a difficult back story of facing the impact of addiction in their personal lives.
Lovato suffered a highly publicized relapse in 2018. Reid is the father of Garrett and Britt, whose struggles with addiction led to their serving time in prison. Garrett overdosed in 2012, while Britt lives a recovered life working for the Chiefs.
Destiny paired the coach and the singer together at the Superbowl – a woman in early recovery, who nailed a comeback performance, and a champion winning coach, who supported his two sons through years of addiction, prison and turmoil. Their lives speak to the far- reaching impact of the addiction crisis and demonstrates the power of hope and power of commitment to head-on fight the disease in whatever circumstances you live.
Opening the Superbowl was Lovato's amazing blow -the- roof- off- the- building rendition of the National Anthem, which was the fulfillment of a career dream she had tweeted about a decade ago.
Watching her epic performance, I wondered how deeply grateful she must have felt knowing this was her moment. This was her opportunity to give voice to the gift of her soul after coming just that close to dying. This was the power of finding the grace of recovery one more miraculous time.
At the end of the game, Reid tightly held the hand of his wife, Tammy, as he ran across through the crowds on the stadium field for the Lombardi Trophy ceremony. Their 40-year union is a testimony to their enduring commitment to each other in their marriage and to seeking recovery solutions for all their family, as addiction is a disease of the family system.
While Lovato and Reid are superstars, their stories of struggle with the impact of addiction are no different from anyone else.
Addiction is an equal opportunity destroyer. It knows no boundaries of zip code, educational background or W2 form. The disconnect between needing help and establishing a recovered life can be fatal.
But the joy of Lovato and Reid's accomplishments on Sunday night was truly a huge boost of hope. Both brought a great measure of courage and strength to their own personal reckonings with the disease of addiction. And, by the example of their lives, both share that courage and strength with all of us on our own personal journeys of recovery.
Connect With Nancy
For information and guidance for help and resources for you or your loved one please email: info@nancyvericker.com
Nancy is co-author of Unchained: Our Family's Addiction Mess Is Our Message.
Image: Demi Lovato beim Global Citizen Festival in Hamburg

Author: Frank Schwichtenberg
Image: Andy Reid, head coach of the Kansas City Chiefs football team.

Source: Source 180814-Z-UP142-059

Author: U.S. Air National Guard Master Sgt. Michael Crane

This image or file is a work of a U.S. Air National Guard member or employee, taken or made as part of that person's official duties. As a work of the U.S. federal government, the image or file is in the public domain in the United States.