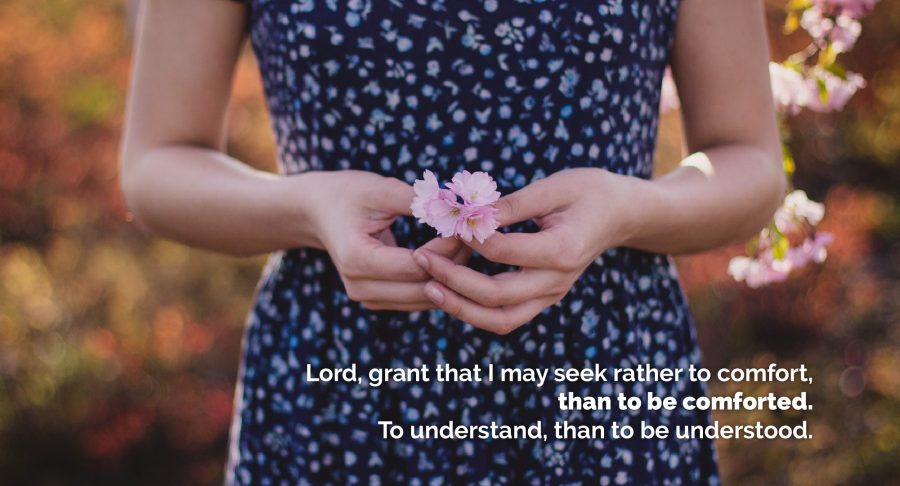 BE A CHANNEL OF PEACE:
CONNECTING THIS SIGNIFICANT WEEK
This week marks a significant time of spiritual observance and beloved faith traditions for so many.
For Christians, this is Holy Week leading up to Easter Sunday. For the Jewish faith community this week begins the eight-day observance of Passover.
There's no getting around the fact that with the world on lock down from the coronavirus pandemic, this week's faith practices and traditions will surely take on new dimensions.
For families in the midst of an addiction crisis,
the disruptions, heartache and uncertainty 
of this time are like heaping red hot coals
on their alreadycomplicated lives.
Because members of an addiction family system already experience daily disruptions, heartache and uncertainty given the cunning, baffling and powerful nature of the disease.
Substance use disorder is a family system disease that feeds on isolation. Right now, many – especially those newly in recovery – are struggling to stay sober and maintain vital connections to others.
No matter the details of personal circumstances, we could all benefit from seeing the hope inherent in this week bear fruit in our lives and in the lives of our loved ones.
Intentionally committing to leaning deeply into the powerful spiritual themes of hope, resurrection and community can provide a strong measure of comfort and healing.
A beloved 12- Step fellowship prayer attributed to St. Francis of Assisi (1182-1226) provides good guidance.
 Lord make me an instrument of thy peace…
That where there is doubt, I may bring faith. 
That where there is despair, I may bring hope.
That where there are shadows, I may bring light.
That where there is sadness, I may bring joy.
Lord, grant that I may seek rather to comfort,
than to be comforted.
To understand, than to be understood.
To love, than to be loved.
For it is by self-forgetting that one finds….
It is no coincidence that earlier this week, the saint's namesake, Pope Francis, also offered guidance on how to stay connected this week during this time of isolation.
"Even if we are isolated, thought and spirit can go far with the creativity of love. This is what we need today: the creativity of love."
Although we must now maintain physical distance, we can use "the creativity of love" to touch the lives of others by phone, text and social media.
We can check in on those who are in the midst of a family system addiction crisis and give words of support.
We can offer the gift of compassion to those struggling with substance use disorder by affirming the hope of recovery, even at this challenging time. We can lovingly encourage them to reach out to their sober network, to participate in 12- Step meetings available on social media and to seek help from recovery advocates and professionals.
And, as giving also includes the gift of self-care, we can spend time this week finding ways to replenish ourselves. Prayer, meditation, readings, daily walks, physical exercise, hobbies or even something as simple as taking a hot soaking bath – a go-to suggestion from my own 12- Step sponsor – are all sound practices to hit the reset button.
While the difficulties of this time are so apparent, we can – especially this week – endeavor to share the gift of hope and loving connection with those in need.
How are you connecting with others with creativity and compassion this week?  Please share here. We all benefit from sharing our experience, strength and hope. Thank you!
Connect With Nancy
For information and guidance for help and resources for you or your loved one please email: info@nancyvericker.com
Nancy is co-author of Unchained: Our Family's Addiction Mess Is Our Message.