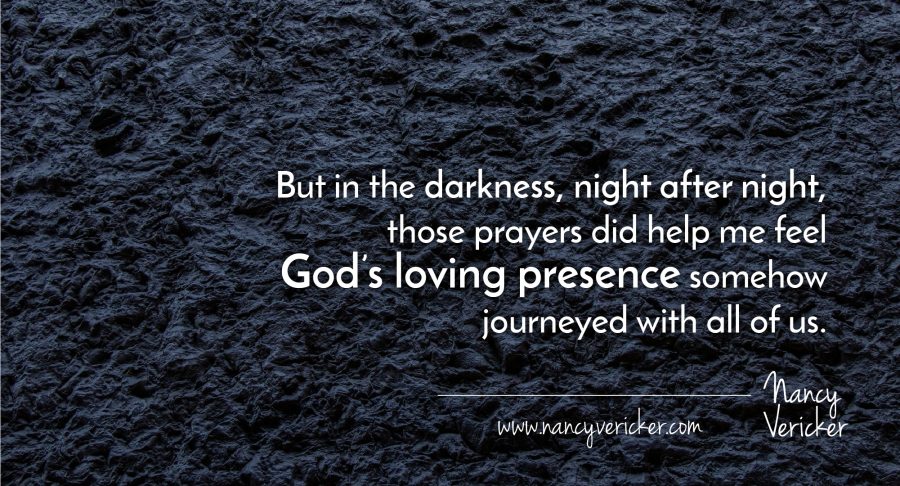 During the years my son was in a heartbreaking addiction free fall, nights were my enemy.
Particularly the middle of the night.
For years it felt as if I set an alarm for 2 am. I would wake up with a jolt and in the long, dark silence that followed my racing mind would imagine every awful scenario of what could happen to him.
I was constantly on frantic alert for the phone call.
Sound familiar?
Most nights my husband, Joe, would be awake, too.
We spoke in the shorthand of two parents worn with worry over the wellbeing of their beloved son.
"Joe…?"
"Nancy… if something happens, we've done all we could."
We would then pray for our son. As best we could, we placed his safety, his happiness and his choices into God's hands. We asked God to protect him and bring him home to us.
To be completely honest, those middle- of- the- night prayers did little to ease my fearful mind. I still felt buried by anxiety for my son's safety.
But in the darkness that enveloped me night after night for many years until my son had his moment of clarity, those prayers did help me feel God's loving presence somehow journeyed with all of us in the pitch- black void of the family systems disease of substance use disorder.
As parents we are hard wired to feel deep in our core our children's struggles. Addiction is an equal opportunity destroyer. Every member of a family impacted by addiction is taken hostage by its cruel reach.
For our family the antidote was found in always trying to believe recovery was possible for our son. We never gave up on that hope for him. Over many years we sought solutions for our son through recovery counselors, multiple rehabs and detoxes, 12- Step fellowships, family therapy, faith- based support.
We always tried to keep the dialogue going with him, even as we followed through with a "tough love' approach. Our message to our son was always the same: we love you and we will help you get recovery help.
In April 2009 our son reached a bottom. He now calls it his Gift of Desperation – AKA God. He has dedicated his life to helping others establish recovery by co-founding a treatment center in Massachusetts.
I believe those insomniac prayers my husband and I tossed up to heaven on sleepless nights when life was very dark in some small way helped to bring about the solution for our family's pain.
"Pray without ceasing…"
(1 Thessalonians 5:17)
---
How do you handle sleepless nights of worry as your family is impacted by the disease of addiction?
Does prayer play a role in your life as you face challenges?
Please share here.  We can all be inspired by our collective experience, strength and hope.
---
Connect With Nancy
For information and guidance for help and resources for you or your loved one please email: info@nancyvericker.com
Nancy is co-author of Unchained: Our Family's Addiction Mess Is Our Message.
Get Your Copy Of Unchained