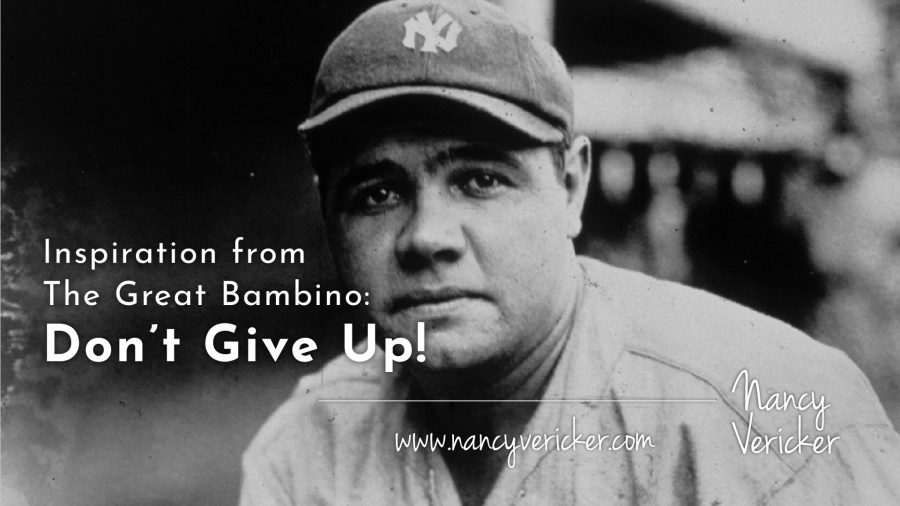 Every strike brings me closer to the next home run.

Babe Ruth
There was a point in our family's ongoing struggle with the systems illness of addiction that everything was going sideways.
Our son had been to treatment and aftercare and was deep in relapse.
I felt absolutely heartbroken as I watched him slip away. I truly believed we would never find a recovery solution.
Sound familiar?
But here's the surprising twist: I now see how that place of hopelessness turned out to be a was a good thing.
It brought me to a turning point where I became willing to change.
I had to change the way I was dealing with our family addiction crisis and learn new strategies that ultimately did help bring us all the hope of recovery.
What I then saw as strikeouts were actually the lessons, I needed to learn to get the hits.
Thank you, Babe Ruth!
The Babe knew what it was like to be in a strikeout slump. He had a record of 1330 strikeouts in his career. That record was unbroken for 30 years. Still the Bambino is an icon for the game and for inspiring others.
Looking back, I wish I could have realized that those dark days for my family were the foundation for building a better way of life for myself and my loved ones.
Those days when hope was sorely lacking opened my ears to hear new voices that encouraged me to look at how I was dealing with all the fallout from the disease of substance use disorder – and how my strategies were not working. The pain I was in pushed me to a level of willingness I didn't have before to deal directly with the awful manifestations of this terrible disease.
There were many, many wise and compassionate people who served as coaches for my family on the journey to recovery: 12 Step mentors, the coordinator of the treatment center Family Program where my son went twice, a family counselor, faith-based support, and trusted family and friends.
It took a lot of time. It was not easy. There were more strike outs along the away.
But, ultimately, through God's grace and the hard work of change my family found its way to hope.
Recovery is always possible! Do not give up on seeking ways to bring hope to your life and the lives of your loved ones!
How has willingness to change helped you deal with the family systems illness of substance use disorder?
Please share here. We can all benefit from our collective experience, strength and hope.
Get Your Copy Of Unchained: Our Family's Addiction Mess Is Our Message