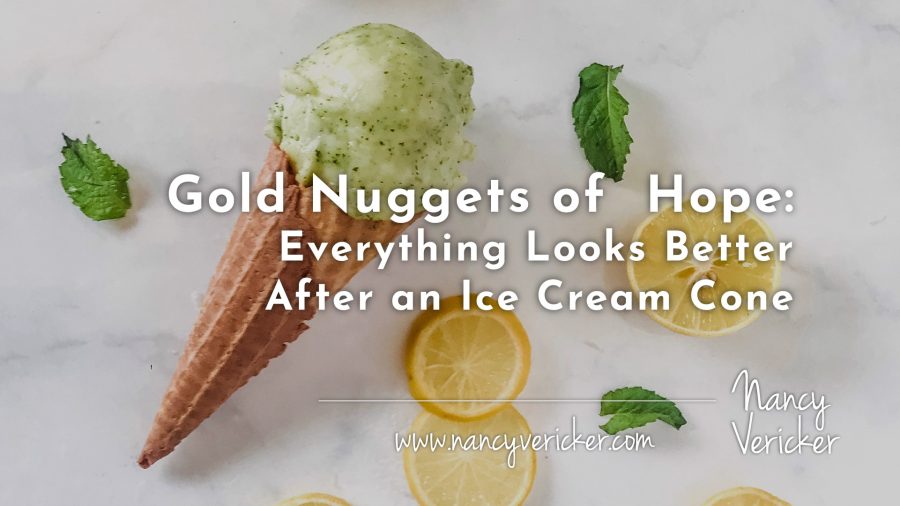 It's good to be on the lookout for a gold nugget of something hopeful glistening in the path we trudge to find recovery solutions for ourselves and our loved ones.
When I was more than waist deep in the muck and mire of our family's substance use disorder crisis, finding some nugget of hope helped keep me sane.
It seemed that whenever I really needed it, someone or something turned up to buoy my spirits.
My dear friend Kathy was a God-given hope bearer for me.
Kathy is a smart-as-a-whip attorney, and a woman of tremendous faith and more courage than anyone I know. She raised four young children after her husband suddenly died of a heart attack at 40 years old. Kathy's friendship is one of the greatest gifts of my life. For 30 years, I have relied on her counsel on any important matter in my life and had a lot of laughs with her, too.
One of the wisest things Kathy ever said to me was: Everything looks better after an ice cream cone.
Believe me, it works.
When – after months of sporadic contact – our son asked for help we moved fast to get him a bed in a detox. It was a challenging time 24 hours– to be honest it had been several years of challenging 24 hours.
Once we knew JP was safely at there, I breathed a long sigh of relief knowing that he would be receiving the help he needed and wanted.
It was an early summer evening. I felt pretty depleted from all the uncertainty that had shrouded our lives for so long
From out of the blue, Kathy's advice on the perspective gained from an ice cream cone popped into my head.
I asked my two youngest daughters, if they would like to go to the local creamery.
Of course, they said yes.
Our ice cream cones at sunset didn't solve all our family's difficulties that night. But it sure did add some sweet perspective.
What nugget of hope did you find this week?
How do you stay on the lookout for hope in the midst of the family systems illness of addiction.
Please share here. We can all be inspired by our collective experience strength and hope.
Get Your Copy Of Unchained: Our Family's Addiction Mess Is Our Message