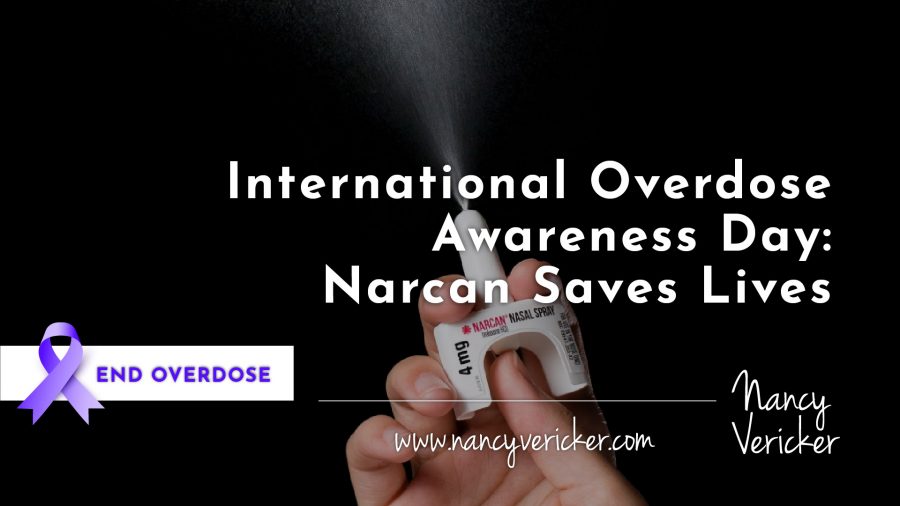 August 31st marks International Overdose Awareness Day.
The goal of this day is threefold:
to remember and reflect on the lives of those who have died by overdose,
to acknowledge the grief of their families and loved ones, 
and to renew our own personal commitment to end overdose.
More than 100,000 died from overdose death in the United States in 2021, according to the Centers for Disease Control and Prevention. That is an increase of nearly 30 % from the previous year. Seventy five percent of those deaths were caused by opioids.
There are many initiatives available to help fulfill a personal commitment to end overdose. A very efffective one is to learn how to administer Naloxone.
Naloxone, also known as Narcan, is a medicine that reverses the effect of overdose by opioids, including illicit fentanyl, prescription opioids, and heroin.
Narcan – is available as a nasal spray that can be administered to someone overdosing. Narcan works by blocking the impact of the opioid on the brain. During overdose when someone, who slows or stops breathing, receives the Narcan spray in their nostrils, they can begin breathing again.
Narcan works to reverse opioid overdose for only 30 to 90 minutes. Some may require multiple doses of Narcan. In the event of any overdose, it is important to call 911 so that the person in need receives proper medical care.
Narcan is safe and easy to administer. Narcan rescue kits are readily available at local pharmacies and through community programs. Narcan administration training is available through community-based education and distribution programs, municipalities, state agencies, first responders and healthcare providers. Training programs usually provide free rescue kits.
Have you received training in Narcan administration?
Please share here. We can all be inspired by our collective experience, strength and hope.
Nancy Vericker and her son, JP, are co-authors of Unchained: Our Family's Addiction Mess Is Our Message. Their book tells the true story of JP's descent into opioid and alcohol addiction to recovery to become co-founder of a national treatment health care system.
Get Your Copy Of Unchained: Our Family's Addiction Mess Is Our Message