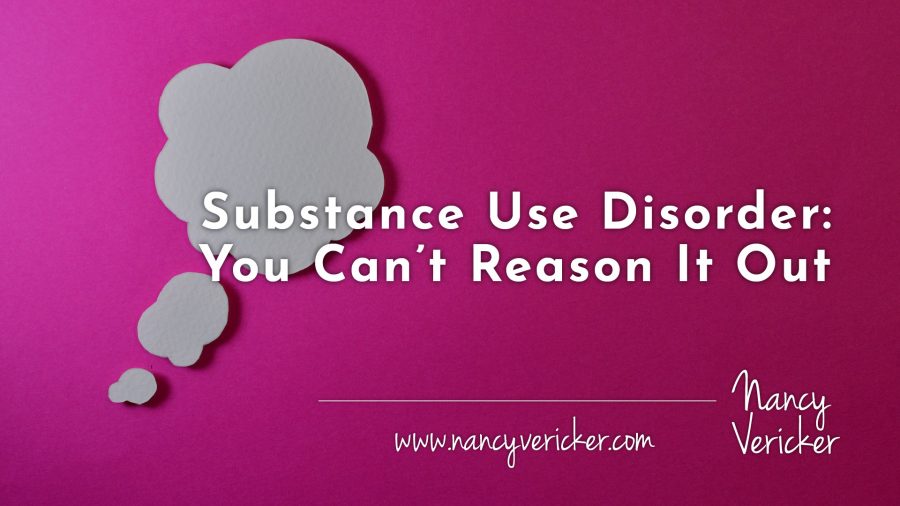 I could not grasp what was happening in my son's heart and mind as he struggled with the illness of substance use disorder.
The heartbreaking circumstances of his life were worlds apart from the amazing young man I knew my son to be in his core.
It just didn't make any sense.
It didn't matter that I had decades of solid recovery through a 12 Step Program. It didn't matter that I knew addiction is a disease impacting physical, mental, and spiritual wellbeing. It didn't matter that I was receiving a great deal of support to manage this family systems illness from wise and compassionate sources. I was trying to "reason out" what was destroying the son I absolutely adored.
And there is no way that this family systems illness can be reasoned with. I was deeply immersed in despair as I witnessed what was happening to my beloved son.
He ultimately came to the place that he calls his Gift of Desperation- God. His decision to begin a recovered life brought healing for him and for all our family. In the years that followed, we wrote a book together, Unchained: Our Family's Addiction Mess Is Our Message, where he speaks about his personal experience with the disease of addiction and recovery.
His deeply personal sharing brought me a lot of understanding.
Being addicted is like having rabies. Raccoons are instinctively nocturnal animals. But when infected with rabies, they don't know if it's day or night, and they roam the streets during the daytime against their natural instincts. They are stumbling around in a strange manner, drooling and foaming at the mouth. They are sick, and the sickness is centered in their rabid brains. The rabies-infested raccoon probably thinks it's behaving normally, but to anyone who observes it, it is whacked out.
But it doesn't know it.
To me, in my addicted mind, my life was normal. But, I was like the rabid raccoon who thought he was living normally; almost everyone who saw me knew I was very sick, and every behavior and thought process I experienced went against normal human instincts. This sort of thinking applied to all areas of my previous addicted life: every burned-down building, every messed-up relationship and negative consequence was—in my twisted mind—a result of the person who was the victim in the situation and not the offender—me.
This sickness was so powerful that I infected people around me. For example, my mother had to say and do things she never would have, because of my illness. Unfortunately, an animal with rabies must be put down. And although I probably behaved in a fashion that deserved that consequence, there was light at the end of the tunnel.
If you had asked me then if I could see the light at the end of the tunnel, I would have told you no. Being on the other side of things now, I would never want to go back to that life.

Excerpted from UNCHAINED: OUR FAMILY'S ADDICTION MESS IS OUR MESSAGE
Nancy Vericker and her son, JP, are co-authors of Unchained: Our Family's Addiction Mess Is Our Message. Their book tells the true story of JP's descent into opioid and alcohol addiction to recovery to become co-founder of a national treatment health care system.
Get Your Copy Of Unchained: Our Family's Addiction Mess Is Our Message