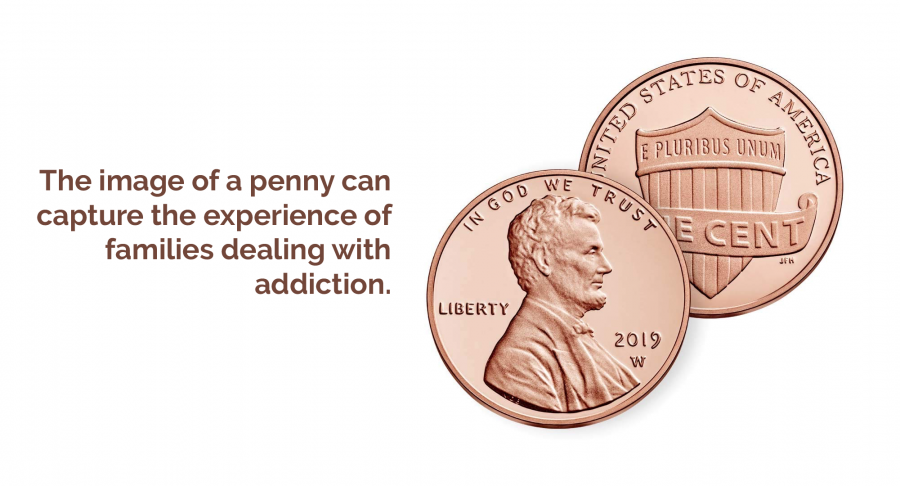 It's probably not an overstatement to say we all have family situations especially during the holiday season.
Without going into a laundry list of the times when things went sideways, we all could share a story or two (or three…) about when our expectations for "happy" holidays crashed into the reality of the dysfunction stemming from substance use disorder.
With the benefit of time, the image of a penny keeps coming to mind because the holiday season is a lot like a two- sided coin.
The head side is the face of the disease – the individual struggling with it. At any given time, that individual can be our loved one in the throes of the addiction, ourselves or other family members dealing with addiction fall-out. Statistically, for every one person identified as the "addict" there are four people directly impacted by their addiction-fueled choices.
As members of a family system dealing with substance use disorder, we can get caught up in hyper focus on the behavioral symptoms this illness.
OMG! Look what he did!
Can you believe what she said??
Here's another problem I have to deal with again!
These feelings are all justified and at times really painful to go through. But hyper-focus also blocks out a larger vision of the rest of life that is taking place around us.
It is important to remember the face of the human person in the midst of our battling the disease engulfing them, and in turn, us. We need to remember the person we knew before the disease inhabited them. We need to remember who we were before substance use disorder arrived like an unwanted guest with all its dreadful baggage in our lives.
Remembering the human face helps in the at- times very difficult task of staying grounded in compassion. It helps us to separate the human person from the awful behavioral symptoms of the disease. It helps us to be kinder to ourselves and to our loved ones as we deal with the challenges of addiction.
On the tail side of the penny is a shield – symbolic of all we hold dear, all that guards and protects our peace of mind, and supports our family as we work towards a lasting recovery solution.
What shields your peace of mind?
Clearly, the components differ uniquely for each of us.
But those unique elements are incredibly impactful because they help us stay strong in our resolve not be defined by the circumstances of addiction. It helps us to be committed to live a life beyond the rough grasp of the disease.
That may be very hard to do, but we absolutely must not give up on doing that.
Fellowships, such as AA and Ala-Non, counseling, recovery professionals, and faith communities are wonderful sources of support, especially during the holiday season when every thing around us seems so merry and bright… And our hearts can be breaking.
Time spent with trusted family members and close friends can also be a place of comfort and protection, shielding us from the harsh realities of the fall- out from substance use disorder.
Setting aside times for prayer and meditation practices, spiritual readings, faith gatherings and service activities can also be a strong shield of protection for our hurting hearts.
For my family, during the years when my son's substance abuse disorder hung over our holidays like a foreboding storm cloud, staying true to keeping traditions such as baking together, decorating gingerbread houses or watching a well-loved holiday classic movie – (Home Alone and It's a Wonderful Life were sure bets) helped us to stick to the script that we were more than the sum total of the illness of addiction.
Don't get me wrong. Traditions can't eradicate the deep pain of loss and the sadness that accompanies a family addiction crisis. But keeping cherished traditions did serve as a comforting presence and helped to re-direct my family to focus on the promise of life beyond the daily unpredictable struggle.
Most of all, in this community we share together, let us hold each other's hopes and prayers for our families in our hearts and our daily spiritual practices, especially during these busy days of the holiday season. Knowing we intentionally join together and share a spirit of hope for each other can be a source of strength in the midst of the challenges posed by substance use disorder.
Contact Nancy
For information and guidance for help and resources for you or your loved one please email: info@nancyvericker.com
Nancy is co-author of Unchained: Our Family's Addiction Mess Is Our Message.