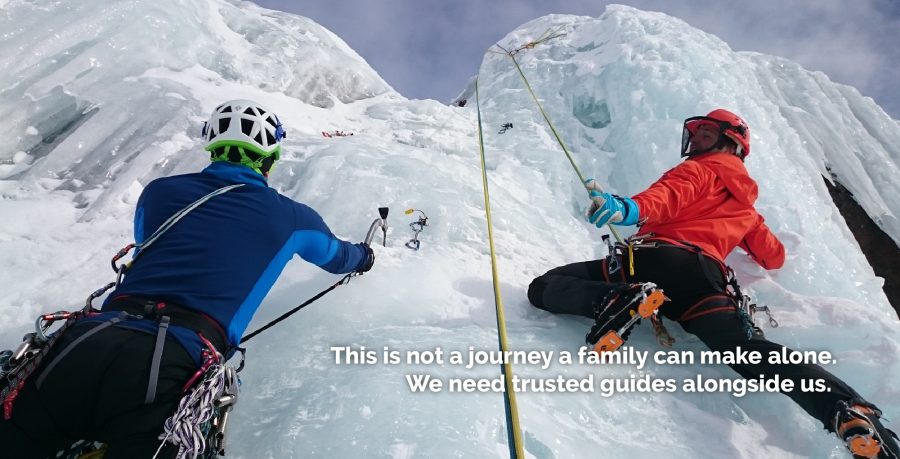 We all know the arduous uphill climb for every member of a family dealing with an addiction crisis.
There are days we may deeply doubt that we will ever get through to the other side. We question our strength, resilience and perseverance.
We may even question the fairness of life that led to the circumstances.
Why has this happened to my family?
As families struggling with the disease of addiction, life far too often has the feel of a treacherous mountain climb. Jagged cliffs. Sheer rock drops. Unstable footing. Dangerous environmental conditions. We well know the difficult terrain: fear, confrontations, despair, relapse, failed efforts to help and great sadness.
The toll this takes on all members of a family system is punishing on every level: physically, mentally and spiritually.
This is not a journey a family can make alone. We need trusted guides alongside us.
There is a lesson to be learned from the mission of the Sherpas, the expert guides who accompany those endeavoring to climb treacherous Mount Everest. Sherpas are natives of the mountainous regions of Nepal and the Himalayas. They know the terrain by heart. They understand the dangers of the mountains, the white out blizzards and the debilitating lack of oxygen. They know when to keep going, and they know when conditions become so dangerous that the climb must cease.
Sherpas have been called the "guardian angels" of Mount Everest. Climbers trust their judgement because of their experience and inherent knowledge. A wise climber follows their guidance to survive the trek. And simply put — in the midst of an ongoing family addiction crisis we all truly need our own team of Sherpas.
Over many the years my family lived out the challenge of an addiction crisis, I came to see the value of putting together a team of support for my family. There were additions and subtractions to that team along the way as the addiction terrain got rougher. Not everyone had the heart for this journey with us. But like the Sherpas, the team who ultimately saw us through, were truly guardian angels for our family.
Sometimes these guides offered suggestions that were easy to hear and act on. Sometimes they told us hard truths. We never could have made it through – as individuals or as a family – without their help.
One of our most beloved guides was Dr. Bill Cipriano, our family counselor, who spoke to us with truth and heart. He understood the long haul to recovery and with professional skill and compassion always gave us wise counsel.
Other sources for guidance were the recovery professionals at the rehab our son attended – family- program coordinators, recovery counselors and detox medical staff. The team for aftercare, including 12- Step fellowship mentors and recovery house managers were also key. And, of course, the love of trusted family members, friends and spiritual counselors always sustained us.
Every family's situation is unique. But without strong and consistent sources of help, a family system in the midst of addiction crisis is like a climber stranded on the icy face of a sheer rock drop. You need the experience and strength of others to survive.
Like the ropes that connect the climbers to their Sherpas as they ascend the cliffs, we all need a team to help our families navigate to recovery.
Who are your Sherpas? Where do you go for guidance?
Please share your experience, strength and hope. I would love to hear from you!
Connect With Nancy
For information and guidance for help and resources for you or your loved one please email: info@nancyvericker.com
Nancy is co-author of Unchained: Our Family's Addiction Mess Is Our Message.