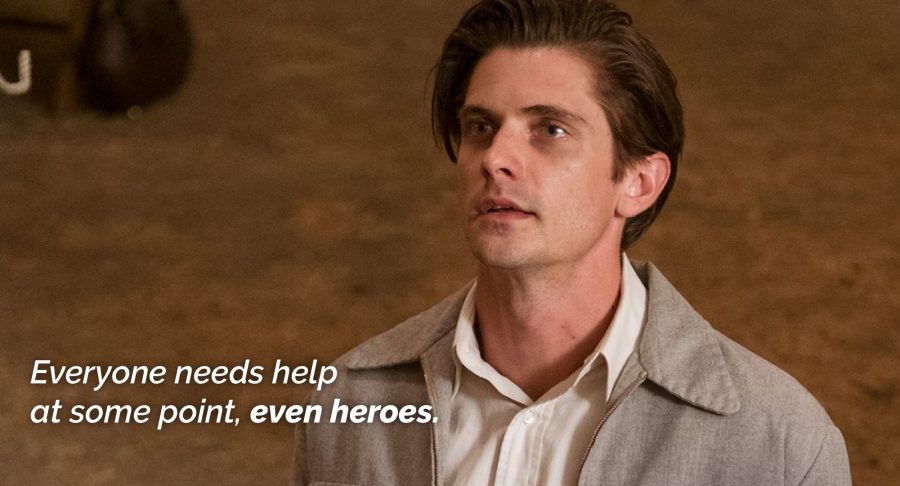 Who knew Walmart's $5 movie bin could provide an inspiring, true recovery story on stay-at-home date night?
That's what happened Saturday night when my husband and I watched Unbroken: Redemption, the Part 2 of 1936 Olympic distance runner Louis Zamperini's story of recovery from alcoholism after imprisonment in a Japanese camp during World War II. We found the movie picking through the bargain movie bin at our local megastore. (I also bought Gone with the Wind — which I have seen about 12 times.)
We originally watched Part 1of Zamperini's life in Unbroken, directed by Angelina Jolie based on the bestselling book by Laura Hillenbrand. It portrays the survival story of the Olympian's 47 days on a life raft in the Pacific Ocean after his plane crashed and his subsequent capture and brutal imprisonment by the Japanese.
Powerful.
So, we were intrigued to learn there was another film about the next chapter of Zamperini's dramatic life involving his struggle with alcoholism. For families dealing with the family systems disease of substance use disorder, the movie hits very close to home.
Zamperini returns from the war a hero, and after a whirlwind romance marries Cynthia, the girl of his dreams. But, very quickly the divide between his daily life, the demands of new- found celebrity and the horrible damage he suffered from his capture creates another imprisonment in his life – alcoholism and PTSD.
Zamperini suffered these illnesses at a time when the medical field didn't even have a diagnosis for the flashbacks, sleeplessness and terror many 1,000s of WWII veterans were experiencing.
Heartbreaking.
The film nailed its portrayal of the pain and chaos inherent in a family system in the throes of addiction and PTSD. Zamperini's close knit family is desperate for an answer. His brother is a constant presence trying to help. His wife lives in despair watching the charismatic man she fell in love with begin to plot the revenge murder of The Bird, his Japanese prison tormentor, as he descends deeper into illness.
More heartbreak.
Zamperini lived at a time where there were few resources for those with substance use disorder and their families. Because my own grandfather died of alcoholism in the 1940's when there was so little help available and so much misunderstanding about the disease, I have always had a keen interest about how people back then found help.
I am so grateful to be living at time when there are so many recovery resources for families. We understand now that addiction is a disease, not a moral failing and that mental illness is just that: an illness.
Zamperini and his family did not know Bill Wilson or Dr. Bob, the co-founders of Alcoholics Anonymous. But like those two visionary men, who changed the landscape of help for those struggling, Zamperini was released from the bondage of addiction and mental torment as a result of a spiritual solution. At his wife's urging, he attended a California tent revival given by a soon-to-be-famous fiery young evangelical preacher, Billy Graham, and experienced a spiritual awakening that released him from his cravings and desperation.
That moment completely changed his life.
With lots of black- and- white personal photos and film clips, the movie depicts how Zamperini went on to found Victory Camp to help struggling young men rebuild their lives. And he became popular inspirational speaker.
Clearly, Zamperini's journey is not every one's path to recovery. But his story offers tremendous hope for others seeking lasting change and the guidance of a Higher Power in their lives.
All in all, a solid hope- builder with a bowl of buttered popcorn on a stay-at-home date night.
Connect With Nancy
For information and guidance for help and resources for you or your loved one please email: info@nancyvericker.com
Nancy is co-author of Unchained: Our Family's Addiction Mess Is Our Message.