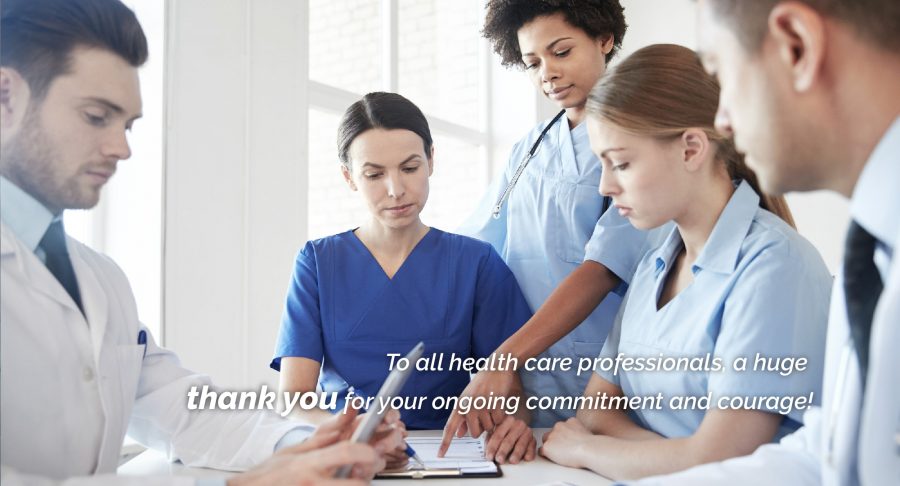 In the midst of the coronavirus pandemic, the tireless work of medical and health-care professionals has shaped public consciousness with great gratitude for their amazing efforts.
Every single day their selflessness, their service mindset and their courage bring hope and inspiration to us all.
At this very moment in hospitals throughout the country, doctors, nurses and health care professionals are working tirelessly to save and protect lives.
And in treatment centers nationally, medical professionals and health care staff continue their work as essential personnel on behalf of those struggling with addiction.
While many have been mandated to stay home, medical professionals and health care workers are being heavily relied on to continue their work in challenging circumstances on behalf of their patients.
To all health care professionals in every area
of service, a huge thank you for your ongoing
commitment and courage!
Their commitment brings hope. As beloved wisdom icon Fred Rogers said: "When I was a boy and I would see scary things on the news my mother would say to me, "Look for the helpers. You will always find people who are helping."
And that helping is what we see every day in the work of those dedicating themselves to the health care field.
The virus has caused much uncertainty on every level of our human experience – physical, mental and spiritual. It has forced people into unprecedented and difficult isolation in an effort to protect themselves and their loved ones.
For those already marginalized by the disease of substance use disorder this isolation can wreck even more havoc in their lives.
Isolation feeds the disease of addiction and intensifies the desperate cravings to self-medicate. That is why the daily work of medical staff and addiction treatment professionals at treatment centers is so vitally important right now.
"Our patients depend on us. And at this critical time in history, they depend on us more than ever," said JP Vericker, chief operations officer at ARK Behavioral Health in Massachusetts.
While some treatment centers have been forced, due to concerns about the spread of the virus, to limit admittance of those seeking help, others have been able to remain open to accept new patients.
The doctors, nursing staff, counselors, technicians, therapists, detox specialists, administrators, social workers, clinicians and post-treatment specialists working at rehabs are living out day-by-day a huge commitment to help those struggling with substance use disorder and their families.
For families impacted by the disease knowing that their loved one is receiving consistent professional care and recovery resources in a safe environment is a huge source of hope and comfort – especially at this time of great global challenge. Family program professionals continue to be a tremendous resource for family members to receive guidance for their own lives.
For those struggling with substance use disorder, the support provided by trained staff at a treatment center can make the crucial difference in the trajectory of their lives.
The overall dedication of health care professionals can offer us all a great example of strength and inspiration as we walk out these days of challenge.
Connect With Nancy
For information and guidance for help and resources for you or your loved one please email: info@nancyvericker.com
Nancy is co-author of Unchained: Our Family's Addiction Mess Is Our Message.