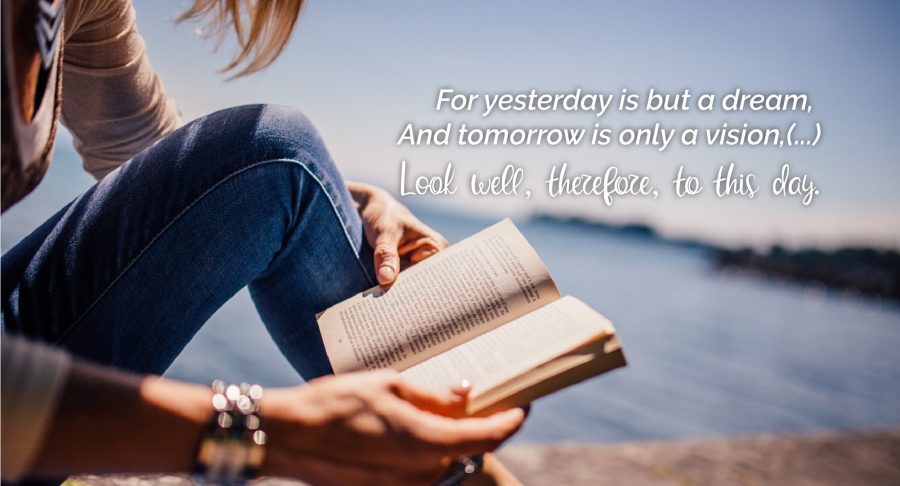 Thankfully, I lived in a home committed to a 12-Step way of life in my early adulthood.
Seeing family members restored to the best version of themselves through participation in 12-Step fellowships and friendships was a game changer for me. Witnessing lives changed for the better influenced my own decision to become a card- carrying member of AA almost 30 years ago. And in turn, these generational recovery choices have impacted, for the better, the lives of my own children. My son, JP, celebrated 10 years in recovery last month. 
I feel blessed to have inherited from a dear family friend Twenty-Four Hours a Day, a daily meditation book that is a longtime mainstay of 12-Step spirituality. The book belonged to my mother's best friend, who we all called Aunt Barbara, even though she wasn't our aunt.
I cherish this copy of the book because Aunt Barbara underlined passages that she found important. And, in these days of great uncertainty, reading these brief, powerful meditations with her underlining personalizing key spiritual points gives me a sense of continued love and guidance from this woman of faith, sobriety and dignity more than 15 years after her passing.
Twenty- Four Hours a Day opens with a beautiful Sanskrit Proverb capturing the many levels of meaning of the seemingly simple slogan, One Day at a Time.
When my son was in the throes of the disease of addiction, I found living a One Day at a Time kind of life to be damn near impossible. I was beset with fear about every aspect of the disease- riddled circumstances surrounding our family, as addiction impacts an entire family system. My mind constantly raced forward to the most dire and desperate outcomes for all of us.
Not a very Day at a Time strategy.
I was a tormented soul. I thank God every day that my son experienced a spiritual awakening and that over the years our family has entered a long stretch of healing and recovery together.
Living with the realities of Covid- 19 has opened for all of us, who know all too well about the disease of substance use disorder, a level of uncertainty and fear that is at times very much akin to those we battle in the family systems disease.
But this time, I want to learn from the mistakes I made in living in so much fear throughout my family's long addiction crisis. I want to try to more consistently practice One Day at a Time. I want to lean more deeply into the practice of keeping my mind and my heart safely situated in 24 hours.
Over the weekend a very compassionate 12-Step spiritual mentor read to me the beautiful Sanskrit Proverb that is at the opening of the Twenty-Four Hours a Day book.
Look to this day.
For it is life,
The very life of life.
In its brief course lie all
The realities and verities of existence,
The bliss of growth,
The splendor of action.
The glory of power –
For yesterday is but a dream,
And tomorrow is only a vision,
But today, well lived,
Makes every yesterday a dream
of happiness
And every tomorrow a vision of hope.
Look well, therefore, to this day.
Her guidance on the proverb was a wonderful teaching moment about how staying in a 24-hour timeframe can help banish the phantom of fear.
Living One Day at a Time takes work, discipline, prayer, meditation, and a balancing act of effort and rest. Life right now is rife with uncertainty. Life must be lived on life's terms. But in the spirit of that timeless Sanskrit Proverb, I want to live fully in the gift of now.
Look well, therefore, to this day.
How do you live One Day at a Time?
What strategies work for you in keeping your heart and mind in a 24-hour framework?
Please share your experience, strength and hope here. We can all be inspired and strengthened by our collective wisdom. Thank you!
Connect With Nancy
For information and guidance for help and resources for you or your loved one please email: info@nancyvericker.com
Nancy is co-author of Unchained: Our Family's Addiction Mess Is Our Message.
Get Your Copy Of Unchained