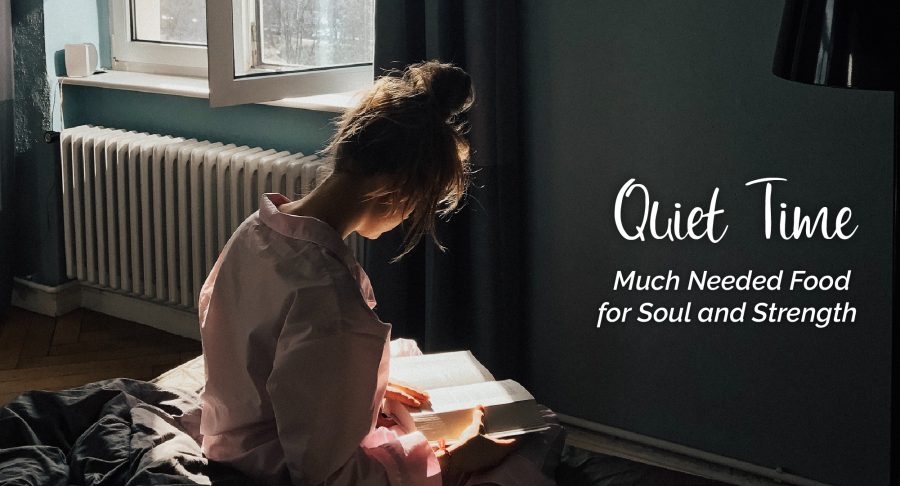 Like so many, I start the day with a time of spiritual reading, reflection and prayer. To be honest, many mornings I am trying to just focus my sleepy eyes on the words and gulp down a cup of coffee to wake up.
But, caffeinated or not, the practice is a good one as it offers refreshment for my soul and guidance for the day.
I became committed to this practice almost 30 years ago when I first entered a 12- Step fellowship. It was suggested to me that a time set apart would help bring Good Orderly Direction (GOD) to my life.
Sounded like a plan.
I did not have to look too far to find a role model for a Quiet Time practice. Scripture offers many accounts of Jesus seeking solitude to pray and recharge for his very demanding earthly mission.
"Very early in the morning, while it was still dark, Jesus got up, left the house and went off to a solitary place to pray." (Mark 1:36)
Back then solitude was hard to come by.
Our children were very young, my husband's business operated out of our home and our two canine family members, our Westies Scott and Zelda, barked like crazy.
I had to commit to get up very early to grab some silence before life revved up at our hacienda. There was something very beautiful about being in a still house with the early morning sun shining through the windows to pray and absorb like a sponge up lifting words from devotional readings, spiritual books or the Bible.
Then, life began to happen.
My beloved father and two cherished friends died after suffering very difficult illnesses within months of each other. My mother was diagnosed with a progressive, terminal disease. My oldest daughter was found to have a heart problem that disrupted her life.
These circumstances were demanding. And I needed that time in the morning more than ever.
As Saint Mother Teresa of Calcutta said, "If you are too busy to pray, you are too busy."
Like an athlete training for a marathon, those challenges and the commitment to maintain a Quiet Time, prepared me for the years when our son suffered from substance use disorder. More than ever, I needed spiritual refreshment, guidance and strength to navigate the rough waters our family of six was thrown into by this disease of the family system.
Those Quiet Times weren't sunshine and lollipops with God. My prayers for my son's recovery seemed to be falling on deaf heavenly ears for years. Many mornings over the long haul, all I could do was try to yield to the peace of the (blessed) silence as everyone slept. Because once the day started, our home was locked and loaded with chaos and heartbreak from the spin offs of substance use disorder impacting all of us.
Looking back, I see those times set apart truly did help me survive. The silence steadied me and clarified solutions. The spiritual readings – when I was able to focus my frazzled mind – were guideposts. Somehow, I gained strength for the torturous journey we were all on.
With the benefit of a decade, I realize my prayers did not fall on deaf heavenly ears.
God did come through…
In God's time.
We all need time to refresh our spirit and connect with God in the midst of a family substance abuse crisis.
Do you have a Quiet Time practice?
What readings help guide your life?
Please share your experience, strength and hope here. We can all be inspired and strengthened by our collective wisdom.
Thank you!
Connect With Nancy
For information and guidance for help and resources for you or your loved one please email: info@nancyvericker.com
Nancy is co-author of Unchained: Our Family's Addiction Mess Is Our Message.
Get Your Copy Of Unchained