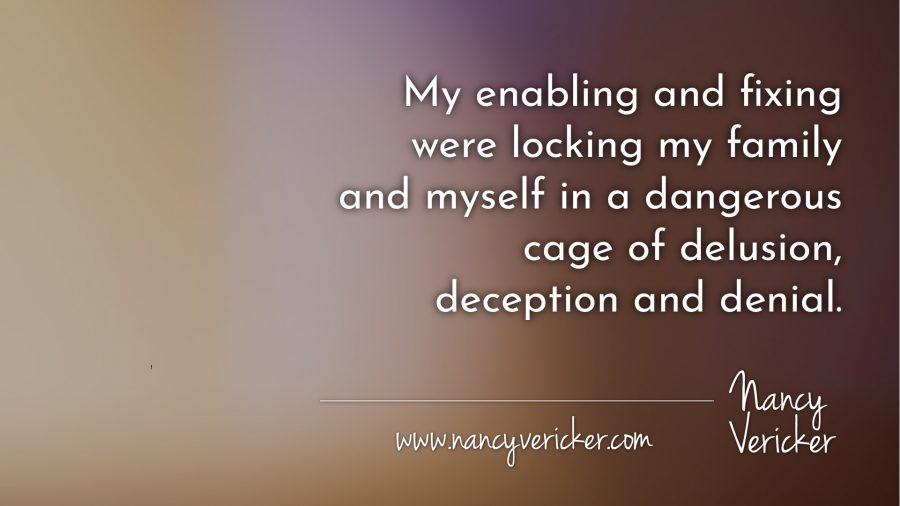 It took me a long time to understand that addiction is a disease of the family system.
While there is the family member identified as the addict, the lives of all the members in a family system are impacted by substance use disorder – and not for the better.
Like any disease that sickens an individual, there are symptoms of illness to be on the alert for.
A key symptom of the illness of substance use disorder can be seen in the array of roles many family members wind up assuming to manage the dysfunction and disruption in their lives. These roles include: the Enabler, the Comedian, the Truth Teller, the Peacemaker, the Fixer and the Distancer.
For far too long, I was a big time Enabler and Fixer. I was called out on this behavior by my own mother, who because of illness lived with us for the last years of her life providing her with a front row seat to the family drama.
Even though my mother's body was failing, her mind was sharp as a knife. She was a Truth Teller and fired off her observations with laser precision.
"You threw down the mattress for him to fall on," she would tell me over and over again.
She was 100 percent right.
It's a familiar story line.
With the best of intentions, I believed the way to love my son as he struggled with addiction and help the rest of my family manage the fallout, was to swoop in and save him when he needed saving.
Those alleged saving actions included making excuses for him to others, giving him a car (that got totaled), paying tuition for college classes (that never materialized), giving him money (that got spent on the wrong things), buying him clothes and high end sneakers, making more excuses, paying rent, providing turn-around school programs, making more excuses and a lot of other things I have thankfully forgotten because through the Grace of God and a lot of hard work my son is not that person anymore and neither am I.
It took me years to begin to unlearn the patterns of dysfunctional roles I clung to.
I had to learn the practice of role reversal because those roles were doing more damage than good.
A very tough lesson.
As mothers we are hard wired to protect our children. When I acted as the Enabler and the Fixer, I believed I was doing the right thing for my son and the rest of my family.
But reality told a different story.
My enabling and fixing were locking my son, my three daughters, my husband and myself in a dangerous cage of delusion, deception and denial.
My dysfunctional role choice contributed to holding my son back from seeing the true consequences of his disease-fueled.
I only understood the power of role reversal through a lot of help over the long haul. I credit our beloved family counselor, Dr. Bill Cipriano, recovery professionals, rehab family program specialists, 12- Step fellowship and faith-based support networks with helping me learn role reversal.
Ultimately, learning role reversal was instrumental in helping my family and myself heal from the systems disease of substance use disorder.
My son is now more than a decade into a recovered life and the co-founder of a system of recovery facilities in Massachusetts.
I am grateful for the lessons learned.
---
What role do you play in your family?
Have you had to learn the practice of role reversal?
Who has helped you?
Please share here. Help and hope are always available. We can all be inspired by our collective experience, strength and hope.
---
Connect With Nancy
For information and guidance for help and resources for you or your loved one please email: info@nancyvericker.com
Nancy is co-author of Unchained: Our Family's Addiction Mess Is Our Message.
Get Your Copy Of Unchained