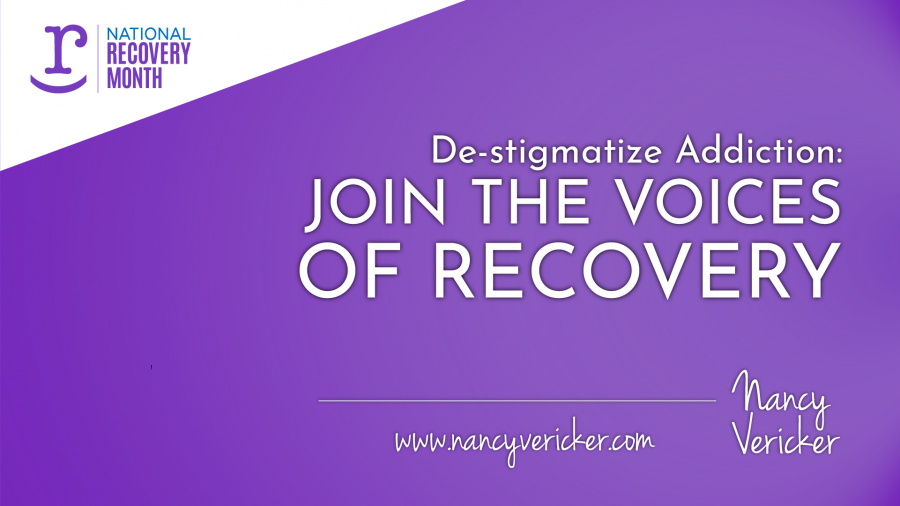 Here's some positive in the midst of a year with challenges that seem to stack up like Jenga game pieces.
September is National Recovery Month.
And as families, who know from the inside what substance use disorder does to an individual and to a family system, having a month set aside to focus on a positive recovery message is a really good thing.
Members of the vast recovery community – whether that's a detox and treatment center, 12-step fellowship, family support network, faith-based support, or any one of a host of other recovery-alliances – know that it's hard to eradicate the shame and stigma surrounding the disease of addiction.
So, having a month designated to promote recovery goes a long way to create better understanding of how to combat and de-stigmatize the disease, and increase societal support for families enmeshed in a progressive addiction cycle.
The theme of Recovery Month 2020 is Join the Voices for Recovery: Celebrating Connections. (There's even a commemorative color for Recovery Month: purple.) Substance abuse is a disease that feeds on isolation, not only for the individual identified as "the addict" but also for their family and loved ones.
Recognizing our connectedness in pursuit of recovery helps break down those walls of isolation leading to new ways of living out the journey of a renewed life.
There is strength in sharing our recovery stories, as well as sharing our struggles. On every level, it forges ties that help us continue the day-at-a-time lifelong journey of recovery. Living a recovered life, whether you are the person with an addiction or a loved one impacted by addiction choices, is not something you can do alone. It takes a commitment to be part of a we.
In my own life, as a woman 30 years in recovery and as the mother of a son ten years in recovery, I have come to learn the importance of the connections I rely on to help strengthen my family's renewed life. Recovery professionals, family programs, friends in sober fellowships, counselors and faith- based networks have all contributed to these years of sober living for my family and me.
I would have been lost without them.
---
Who are the members of your support network?
How does sharing your story with others help them on their recovery journey?
Please share here. We can all be inspired by our collective faith, strength and experience. 
---
Connect With Nancy
For information and guidance for help and resources for you or your loved one please email: info@nancyvericker.com
Nancy is co-author of Unchained: Our Family's Addiction Mess Is Our Message.
Get Your Copy Of Unchained