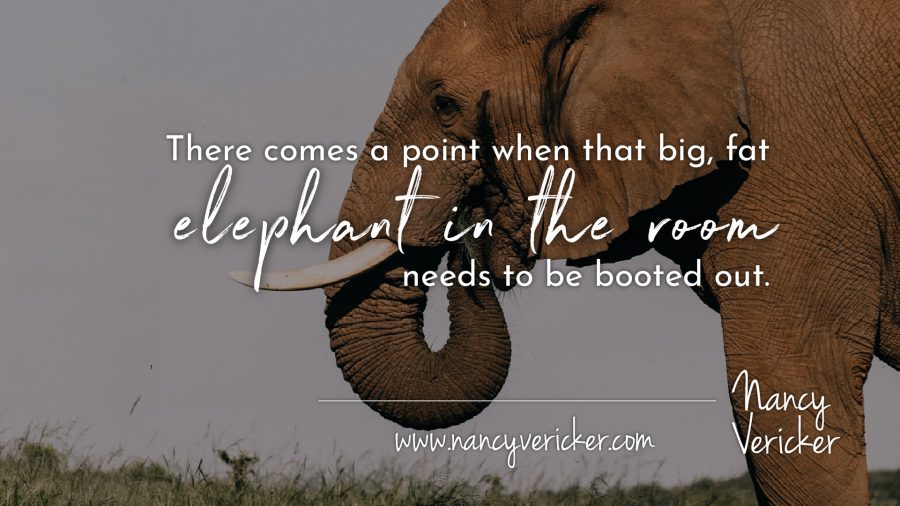 There comes a point when that big, fat elephant in the room needs to be booted out.
The family systems disease of substance use disorder is riddled with denial. And that denial often causes the person identified as "the addict" and their loved ones to ever so carefully side-step "the elephant" of the truth that there is a problem, and it needs to be addressed.
Families can spend a lot of time tiptoeing around the painful reality that their loved one needs outside help.
The reality is often renamed and repackaged as a lot of things that sound a whole lot nicer than substance use disorder. This can include calling the reality of addiction: too much stress, overtiredness, a rough time at work, a bad semester at school, a tough break-up, the wrong crowd, just a little fender bender, a little too much partying, a teenage phase, a twenty-something thing, a midlife crisis, a bad night, a bad week, a bad month, a bad year…
We've all heard it before.
The repackaging and renaming of the disease – AKA denial – often works for awhile.
But ultimately the toll this progressive disease takes on the lives of loved ones and their families makes it clear that a lasting solution needs to be found.
Like countless other families, my family line is wired with the high voltage currents of generations of the disease of addiction. And over the generations, there has been a great deal of denial about the disease going on.
Not a pretty picture.
But through the grace of God and the hard work of consistent change, my family is now hardwired (a day at a time) with generational recovery.
What made the difference for us?
Over the years, in many different forms, we sought a lot of help. In a family system, addiction feeds on entrenched thinking, isolation and shame. By opening up our walled-off family system with outside support we were able to establish a recovery solution that broke the chains of generations of addiction.
Family counseling specializing in addiction issues gave us honest advice and helped us clearly see "the elephant in the room." Treatment center professionals provided invaluable support and a place for recovery to begin. The treatment center's family program and aftercare support were also important elements of our family's solution.
The support and wisdom of 12 Step fellowships were essential in meeting the challenges posed by the illness. Trusted family members and friends offered their compassion and insights. Faith-based communities provided spiritual renewal.
Over time, with the help of all that support, the big, fat elephant in the room got the boot.
And as a family we healed.
How have you dealt with the "elephant in the room" of the family system's illness of addiction?
What outside support has helped your family?
Please share here. We can all be inspired by our shared experience, strength and hope.  
Get Your Copy Of Unchained