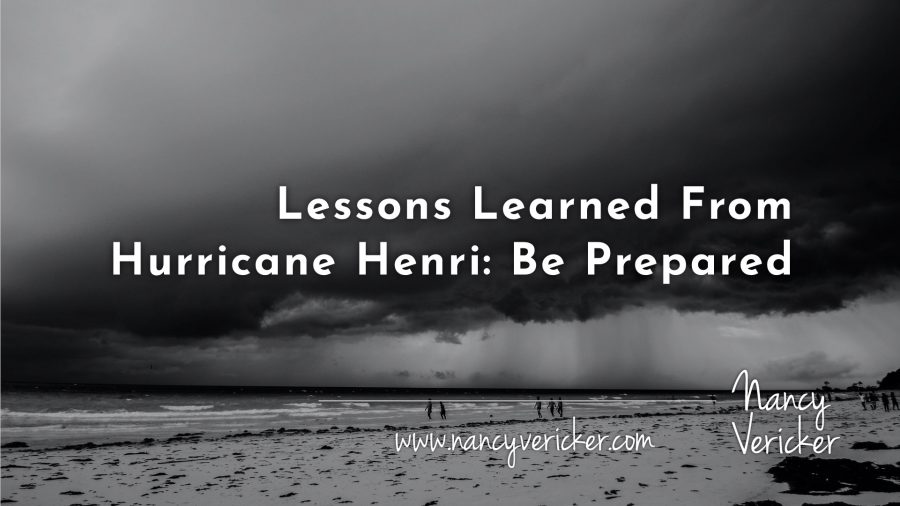 Hurricane Henri's roar through New England was a bit of a bumpy ride.
It could have been a lot worse.
The takeaway from the storm is the Girl Scout motto: Be Prepared.
In the days before Henri hit my husband and I stocked up on food, water (our well went down with the electricity for three days), flashlights, candles and everything else we could possibly anticipate needing. We tied up the kayaks, stored all our outdoor furniture safely away and buttoned up anything at risk for flying about in 65 mph winds.
After the storm made landfall, we went to Plan B. It was clear that we would need a power source because there would be no electricity for a few days. So, my husband headed out to buy a portable generator.
Bless him.
All this preparation made Henri's harshness more manageable.
And it reminded me of very wise advice I received when our then 19-year-old son was suffering from the disease of addiction and living on the street in the middle of winter.
Our beloved family counselor, Dr. Bill Cipriano, told us: Get your ducks lined up. Get everything in place now so you are ready when he is ready to seek help.
To this day I am so grateful for that advice.
My husband and I used the waiting time well. We visited some treatment centers. We asked questions about their programs. We got insurance information about detox and treatment coverage for our son. We zeroed in on a place we thought would be a good fit for our son and made arrangements for his transport there.
All of this was done while our son was still very much in a free fall.
We waited for his phone call. Those were long, hard days.
When our son finally reached out, we were ready. He was on his way to detox and treatment within two hours.
Our son has lived the gift of recovered life now for many, many years. He has devoted his life to helping others do the same by co-founding a treatment health care system.
I am thankful that we used the time we had to Be Prepared. It made riding out that storm a little easier to bear.
How have you gotten ready?
Please share here.
We can all be inspired by our collective experience strength and hope.
Nancy and her son, JP, are co-authors of Unchained: Our Family's Addiction Mess Is Our Message. Their book tells the riveting true story of JP's descent into opioid and alcohol addiction, homelessness, and violence to his recovery to become co-founder of a treatment health care system.
Get Your Copy Of Unchained: Our Family's Addiction Mess Is Our Message